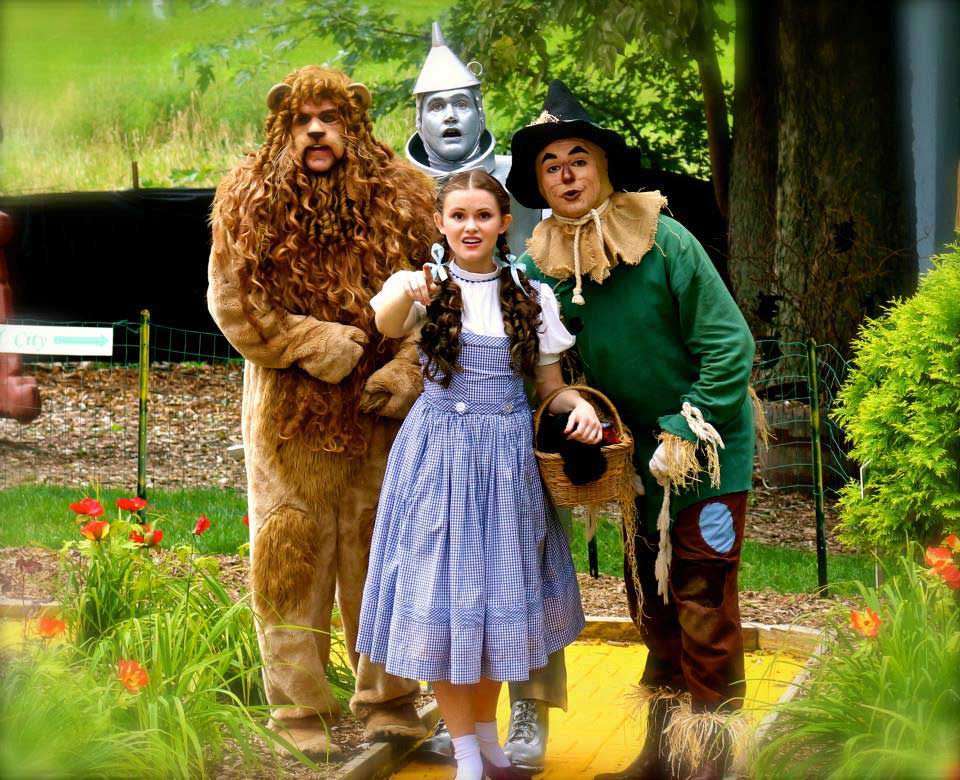 Our characters have been working together for almost 8 years now. We started as characters for the Chesterton Wizard of Oz Festival and, over time, expanded our audience by appearing at numerous events such as The Indianapolis 500 Kids Festival, The Indiana State Fair, Oz-Stravaganza! (2009) in Chittenango, and many more. We also donate our services to charitable organizations and children's hospitals.
In September of 2013, our characters were hired by Warner Bros. to be a part of the 75th Anniversary of the film in Hollywood. We appeared at the premiere of the film in 3D at the Chinese Theatre; we also helped to unveil the new Dorothy figure for Madame Tussaud's Wax Museum. This appearance garnered great media coverage including a segment with the characters on ENTERTAINMENT TONIGHT and their photo appearing in THE NATIONAL ENQUIRER.
Many costumed character groups simply show up and pose for photos, our group does much more than that! We sing and dance, we emcee events – basically we strive to make our characters as much a part of an event as possible. We love spending one-on-one time with attendees – chatting, playing games, whatever we can do to make the event as special as possible.
Unlike other OZ character groups, our costumes are not store-bought Halloween costumes and masks. Each costume is handmade using original publicity and costume test photos from the film as reference. We also use theatrical makeup techniques so that our characters are fully capable of talking, singing, and showing expressions – masks do not allow for this, they can also be quite frightening to children! Many groups out there also have women well into their forties playing Dorothy! All of our characters are age (and size) appropriate to their film counterparts.